A 'memorial for the ages' in Garner
Like many at the Garner Veterans Memorial on Saturday, Ellie Woodlief searched for the brick dedicated to her brother, Robert Clark Dawson, who died in Vietnam.
"I found his name on the wall, and it made me feel better," Woodlief said to friend Tommy Holloman. Holloman, a friend of Dawson's also served in Vietnam; suggested she sit back and take a break.
"No, (I've) got to find him," she said.
At least 1100 people gathered for Saturday's hour-long ceremony to dedicate the $500,000 memorial which speakers and attendees lauded along with its grassroots funding and design by architectural firm Clearscapes. After it ended, five military helicopters performed a flyover as people explored the monument.
The plot at Lake Benson Park memorializes those who served in America's conflicts and provides veterans a place to heal and reflect.
"It just kind of blows you away," N.C. Secretary of Transportation and keynote speaker Tony Tata said. "It is a memorial for the ages."
Tata retired from a 28-year military career in 2009 as brigadier general in the Army, and he also served as Wake County Public Schools' superintendent.
The memorial consists of light gray slabs commemorating North Carolina's contributions to various U.S. conflicts attached to rich, clay-colored supporting slabs. N.C. State history professor Craig Thompson Friend wrote the histories of each decade for the project. Facing them, smaller slabs list Garner residents who died in each foreign conflict.
Individuals, businesses, civic clubs and veterans groups provided most of the funding, including the sales of more than 800 dedicated bricks making up a walkway. Organizers had all but about $11,000 in hand as of earlier in the week, and brick sales continue.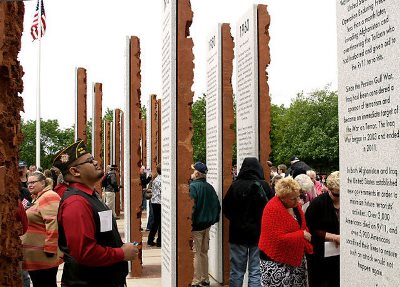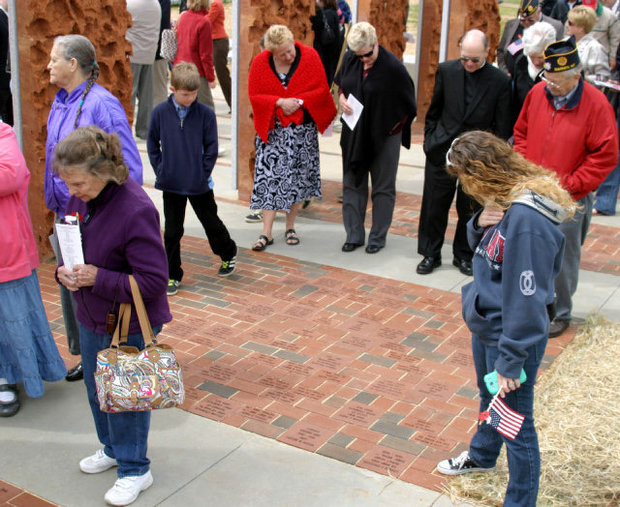 "The whole town came together on this," said Sandra Johnson-Leu of the Ladies Auxiliary of the Veterans of Foreign Wars. "That tells you what Garner thinks of its veterans." Leu's husband, Don Leu, who served in wars both in Vietnam and Korea, said the memorial brought negative memories from his return from Vietnam full circle.
"We flew into San Francisco. We came down the ramp, and all I heard was 'Hey baby killer,'" said the retired Army sergeant first class. "If you told people what you saw over there, they'd say 'You're crazy' and 'I don't believe you.'"
Garner Chamber of Commerce president Neal Padgett served as master of ceremonies. Mayor Ronnie Williams, after being presented a flag by U.S. Congressman David Price, joked that he had three pages of notes, but said, "I'm not gonna do it. This isn't about me, it's about the veterans we honor."
Williams didn't mention that he was a Vietnam veteran, and that an anonymous donor had purchased a brick dedicated to him.
Wake County Commissioner Phil Mathews introduced Tata. State Sen. Chad Barefoot, state Rep. Darren Jackson and the Garner town council also attended the ceremony.
Randy Cash, the American Legion Department of North Carolina chaplain, said that in his role he's seen a lot of ceremonies and memorial dedications.
"This is one of the most impressive I've ever seen," the retired 34-year Navy Captain said.
A place to remember, heal
Holloman said that as beautiful as the memorial was in the daytime, at night it packed more power.
"It's even more beautiful at night," said the Air Force sergeant who served from 1967 to 1971. "It's a peaceful place where everyone can go and heal."
He echoed the sentiments of commissioner Matthews. The Garner resident and Vietnam veteran compared his feeling to the first time he went to Arlington National Cemetery or saw the Vietnam Memorial in Washington. He said he couldn't initially find his brick, but then realized he was standing on it.
"We've got a place here now to come and relax," Matthews said. "If you've got something on your heart, your soul or on your minds, this is a good place to leave it and come to terms with things. We were all wounded in some way or another, either physically or spiritually. But we have a place now."
Jared Londo lives in Morrisville but belongs to the Garner Post 10225 of the Veterans of Foreign Wars. The Army sergeant served in Iraq in Operation Desert Storm, and suggested that young people would see this and develop national pride.
"It makes me proud to see this, " Londo said. "Future generations will see this stuff, and it will make them take as much pride in their country as I do."
Tata, who called Garner an "all-American town" during his speech, said that the history presented had a context that most memorials don't achieve. He said he got an email from someone who said he didn't feel right about celebrating Memorial Day.
"I said, 'Please celebrate. That's what we're over here fighting for,' "Tata said. " We want you to enjoy the blessings of liberty."
The layout of the memorial shows that some international conflict marks most decades in American history, which Tata called "unfortunate" but "real." With space to continue into future years and bricks continuing to be purchased, the memorial can continue to grow. Although most would hope slab-less decades marked by a bench would become more regular additions than tall concrete conflict histories.
Asked overall what he got out of the ceremony and memorial, Holloman was succinct.
"Awesome," Holloman said. "That's what I got out of it."
by Kyle Jahner
Garner-Cleveland Record
May 7, 2013