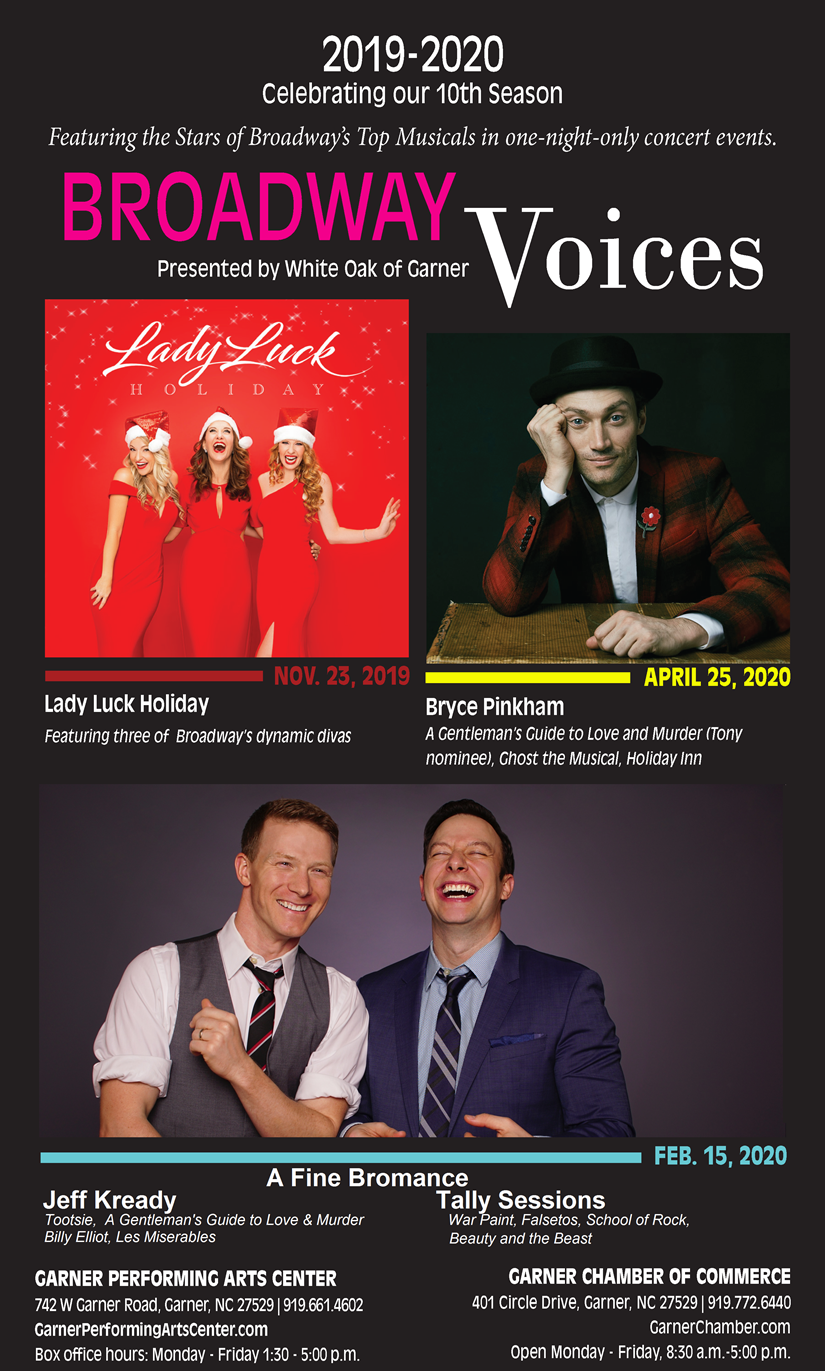 Lady Luck Holiday
November 20, 2019
The holidays will be just around the corner when Lady Luck returns to the Garner Performing Arts Center after a sellout performance last spring. Heidi Webster, Nicole Kaplan and Rachel Tyler will light up the town with songs such as "Silent Night," "Have Yourself A Merry Little Christmas," and "What A Wonderful World." Don't miss three Broadway stars bringing tons of holiday spirit. Accompanied by musical director Mark Vogel, Lady Luck has been described as just pure fun. You'll be thankful.
A Fine Bromance
with Jeff Kready and Tally Sessions
February 15, 2020
An evening of soaring tenor and booming baritone duets! Jeff Kready (Tootsie, A Gentleman's Guide to Love and Murder, Billy Elliot, Les Miserables) and Tally Sessions (War Paint, Falsettos, School of Rock), bring an evening of jazz standards, classic show tunes and new favorites to GPAC. The Rat Pack meets Simon & Garfunkel meets Abbott & Costello. They'll make you laugh, they'll make you cry, and some of it will be on purpose! You won't want to miss this night of extravaganza.
Adam Jacobs
April 25, 2020
Join Broadway's original Aladdin and Grammy- nominated artist Adam Jacobs as he explores the prolific songbook of the incomparable Alan Menken.  Featuring classic songs from hits such as Newsies, The Little Mermaid, Hercules, Aladdin and more, his family-friendly show will have folks of all ages singing out the theater.
Broadway Voices Series
Broadway Voices is a partnership among the Town of Garner, The Garner Chamber of Commerce and area businesses.
The Triangle's Broadway Voices returns for its TENTH star-studded season with three concerts featuring Broadway's hottest stars.
The series has attracted Tony Award nominees and Tony Award winners who have starred in some of Broadway's biggest shows including "Cher," "Hamilton," "Tootsie," "Porgy and Bess," "Beauty and the Beast," "Wicked," "Mary Poppins," "Phantom," "Les Miserables," "Ragtime," "Jekyll & Hyde," "Thoroughly Modern Millie" and "Chicago."
"Growing up in Garner, I never would have believed that we would have Broadway stars on our stage," said Garner Mayor Ronnie Williams. "It still amazes me."
"Broadway Voices is known for its excellence." Neal Padgett, Garner Chamber President said. "This may be our most popular season ever."
One indication of the talent attracted to Garner is that many of our stars almost immediately joined a Broadway production in a starring role soon after their being in Garner. Several have taken the weekend off from their Broadway show to make a guest appearance at GPAC. Our lineups feature today's hottest Broadway stars.
"Garner one day, back to Broadway the next," Padgett said.
Concert Details
What:
Broadway Voices, bringing Broadway stars to the Triangle. Each show features a lead performer from Tony-Award winning shows in a one-night only solo concert.
Venue:
Broadway Voices concerts are at Garner Performing Arts Center
742 W. Garner Road
Garner, NC
919.661.4602
Performances:
Lady Luck
Holiday
Saturday, November 23, 2019
7:30 pm
A Fine Bromance
with Jeff Kready and
Tally Sessions
Saturday, February 15, 2020
7:30 pm
Adam Jacobs
Saturday, July 11, 2020
7:30 pm