Garner Chamber of Commerce
Winners will be announced at the Chamber
Annual Meeting & Awards Gala
It's Garner's annual People's Choice Awards
Through your online voting, you have chosen the finalists for each category of the Garner People's Choice Awards.
Now you choose the winner in each category. This round of voting ends at 5:00 pm Monday, September 9.
To vote, select one business in each category. Hover your cursor just below the last business listed (just above"Crowdsignal.com") and click on the "vote" button.
You may vote one time per device. This round of voting is September 3-9.
The winner for each category will be announced at the Chamber Annual Meeting & Summit Awards Celebration on Thursday, September 26. Join us as the winners will be announced!
Click here to register to attend the Chamber Annual Meeting & Awards Gala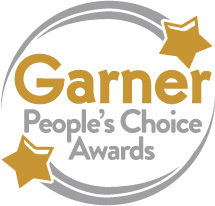 August 26 - September 2
-Online Voting-
Vote for 3 in each
People's Choice category
to determine finalists
September 3-9
-Online Voting-
Vote for 1 from the list of finalists in each
People's Choice category to determine winner
September 26
People's Choice Winners announced at
Summit Awards Gala