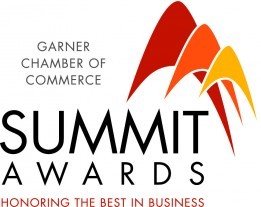 Summit Awards 2019 Application Package
The Garner Chamber of Commerce is proud to give yearly recognition awards to companies in the following areas:
First Citizens Bank Forever First Award
Wells Fargo Vision and Values in Business Award
Jones Insurance Excellence in Business Award
La Cocina Steady Growth and Achievement Award
Huebner Family McDonald's Entrepreneurial Award
Capital Chrysler Jeep Dodge Nonprofit Achievement Award
This is a chance for you to demonstrate and gain recognition for your business's achievements and hard work, raise awareness with the greater public and receive accolades and positive press that could generate more interest and business for your company. It is at no cost to you, so you've got nothing to lose and everything to gain!
All finalists will be announced and recognized by the Chamber. Winners will be recognized at a ceremony to be held at the 2019 Annual Meeting & Summit Awards Gala on Thursday, September 26, 2019 at 5:30 pm at the Grand Marquise Ballroom.
All applications for the Summit Awards 2019 are due to the Garner Chamber by Wednesday, August 7th at 5 pm. Finalists for the awards will be announced early September.
The Chamber encourages all who are interested to attend a session to learn more about the Summit Awards and to learn tips on how to submit a winning application. The sessions are offered in two formats: live streaming webinars and work sessions at the Chamber.
Live streaming webinars:
Thursday, June 20, 2019 at 2:00 pm
Wednesday, July 10, 2019 at 2:00 pm
Friday, July 26, 2019 at 10:00 am
Work sessions:
Tuesday, June 18, 2019 at 8:00 am
Tuesday, July 9, 2019 at 8:00 am
Wednesday, July 24, 2019 at 12:00 noon